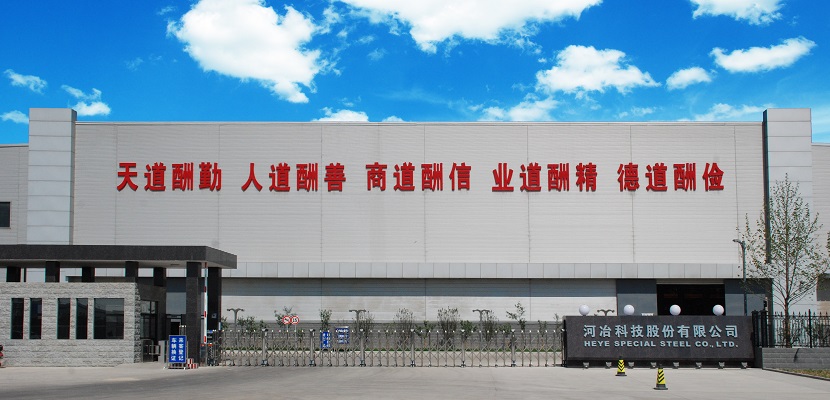 HEYE Special Steel Co., Ltd. (AT&M-HEYE) is a joint venture Corporation, held by Advance Technology & Materials Co., Ltd. (AT&M, stock code: 000969), which is the leader in the field of China's new martials. Its main shareholders are AT&M, Sumitomo Corporation and China Iron & Steel Research Institute Group, etc. AT&M-HEYE is a specialized high speed tool steel enterprise combined research R&D with production. It's also the leading unit of HSS specialty group under Chinese Special Steel Association and one of the Top 50 Industrial Enterprises in Shijiazhuang. AT&M-HEYE cooperated with National Engineering Research Center for Advanced Steel Technology (NERCAST) for setting up HEYE Research Center for Tool and Die Steel. A National Post - doctoral Scientific Research Station has also been set up.
Our products are mainly in 3 categories according to grades, which are HSS (traditional HSS, PM-HSS and SF-HSS), alloy tool steel and heat resistant steel & anti-corrosion steel. They could be categorized into 12 series and nearly 1000 sizes, such as forged bars, forged billet, hot rolled round bar, square bar, flat bar, coil, cold drawn materials, peeled materials, ground materials, sheet steel, hot rolled strip and cold rolled steel, etc. We could provide forged, extrusive and welded near net shape billet for cutter as per customers' requirements. The products are widely applied in tools, die, automobile, aviation, shipbuilding, military, metallurgy and steam turbine, etc., and sold to 26 provinces, autonomous regions and directly governed cities. They are exported to more than 10 countries and regions in Europe, America and South-east Asia.
AT&M-HEYE cherish its five core values, which are "being friendly and working loyally, co-creating the well-known brand, benefiting its employees, paying back its shareholders and society"; Meanwhile, AT&M-HEYE advocates and pursues its company culture "diligence is the best self-help, kindness is from good humanity, business relies on honesty, superior skills are from focus and thrifty is the way to good virtue"; and acts as the principles of "Seeking Truths, Being Pragmatic, Acting promptly and Being Persevering"; We constantly enhancing R&D and innovative capability, technical and equipment level, continuously improving the sales model and service quality. AT&M-HEYE is always striving for a world leading HSS supplier and solution provider.