Through the system construction and integration, and constantly bringing in the management tools, we have improved the management level and product quality. Moreover, Environment has been optimized, and safety has been ensured. All of these have played a supporting role for the development of the company.
●Quality Management System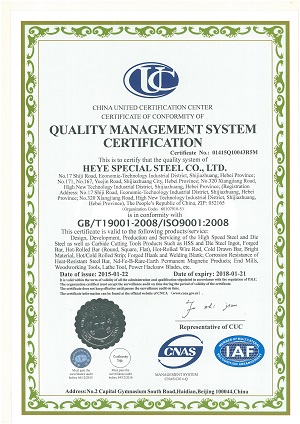 According to ISO9001:1994 Standard, HEYE has built a quality management system, which was authenticated by the China Certification Centre for Machine-building Quality System (now China United Certification Center) in October, 2000, and passed the conversion authentication of ISO9001:2008 in December, 2008.
Quality policy:
Insisting on "the Idea of Humanity";
Relying on management innovation;
Ensuring continuous improvement;
Providing satisfied products.
Focusing on customers' interests:
All staff of HEYE takes meeting customers' demand as the starting point and end-result of work. In order to ensure products quality, the policy of scientific management and continuous improvement has been carried out well. Welcome to give us your kind advice through visit or E-mail, as satisfaction investigation is set at this website.
HEYE always wants to co-create a famous brand, along with all of our customers.
●Safety Management System of Environment & Occupational health: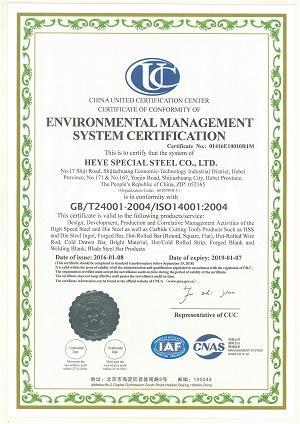 According to ISO14001:2004、OHSAS18001:2007 Standard, HEYE has established a Safety Management System of Environment & Occupational health, which was passed the authentication of China United Certification Center in December, 2012.
Environment policy:
Be honesty and lawful and fulfill responsibility;
Fully participating in cleaner production;
Protecting first with comprehensive management.
Occupational health policy:
Be honesty and lawful and fulfill responsibility;
Insisting on humanism and health is above all;
Prevention first and lean management of safety;
Fully participating and being outstanding.
●Excellent Performance Management Mode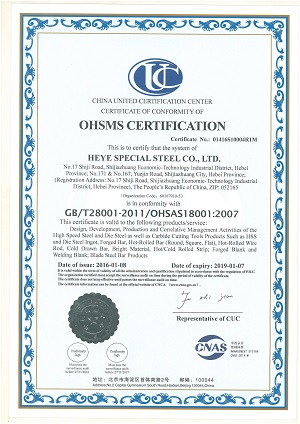 HEYE has bringing in the Excellent Performance Management Mode in 2010, aiming at standardizing management activities in all terms, improving business performance and leading the industrial development. Rejuvenating national manufacturing is made as our own duty. Therefore, HEYE won the Hebei Provincial Government Quality Award.
HEYE's mission: manufacturing cost-effective products and push the industrial technology forwards;
Company prospect: a world leading HSS supplier and solution provider;
Core values: being friendly and working loyally, co-creating the well-known brand, benefiting its employees, paying back its shareholders and society;
"Five Taoism" Enterprise spirit: diligence is the best self-help, kindness is from good humanity, business relies on honesty, superior skills are from focus and thrifty is the way to good virtue;
Operational policy: diversified products, small lot quantity, superior quality, low cost, quick delivery and excellent service.
Behavioral Principle: seeking truth from facts, being pragmatic, acting promptly and persevering.
Aim for management: building its inner discipline like an army, study atmosphere like a university and mutual benefiting environment as a family.